landing page development
Landing pages are essential to your

business.
The landing page of your website is like the digital version of the direct marketing letter, highly targeted and focused on one specific outcome.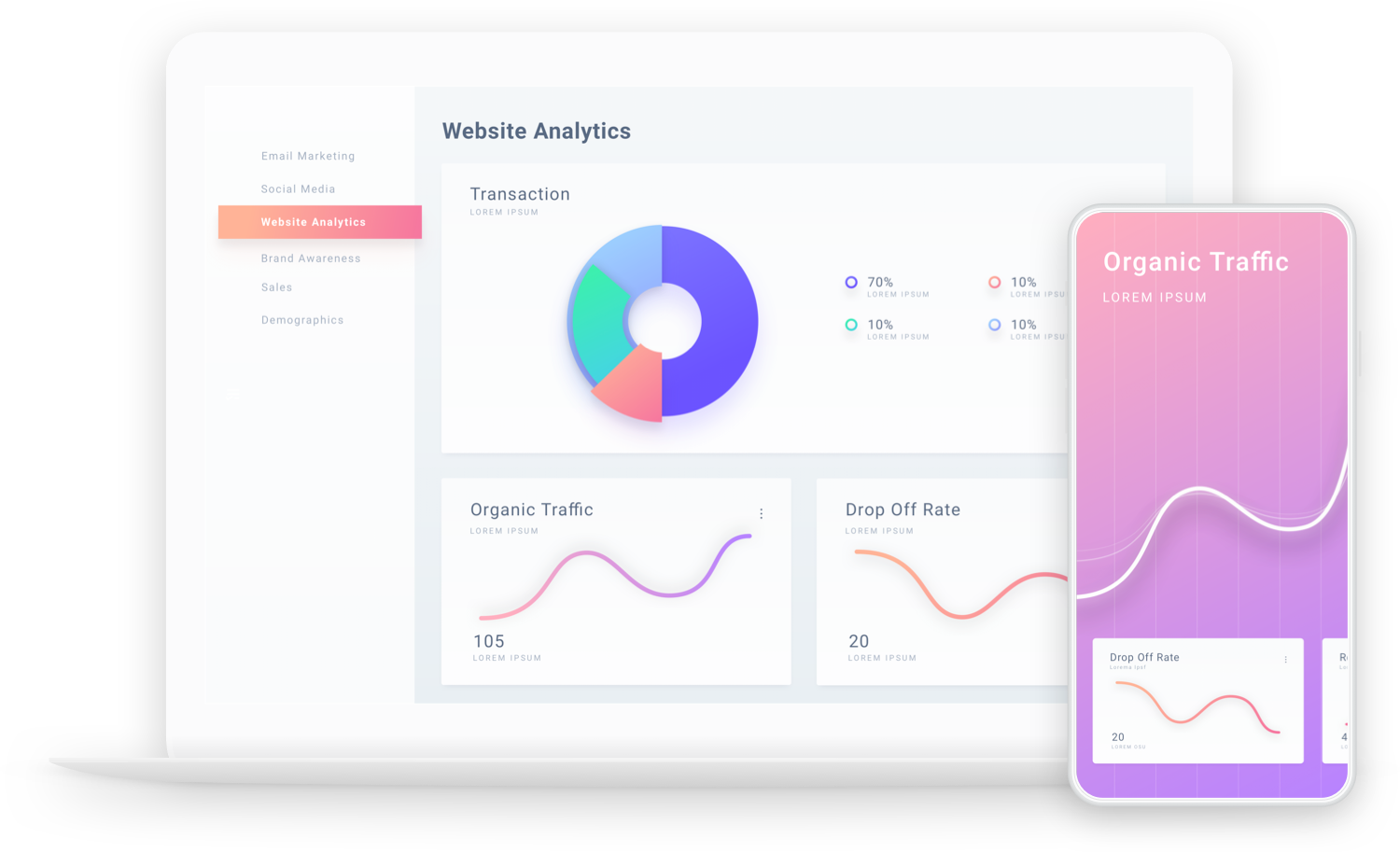 Get Started For Free!
Landing pages as a replacement for a business site
Many businesses that start out prefer to avoid the high cost of setting up a website. However, they still want to have a reasonable online presence that will allow them to present their business card to their customers. This solution is the ideal solution for them.
We'll Show You How It's Done
Know that you are looking for something on Google or Facebook and then you click on an ad that you find interesting and instead of coming to the company website you come to a concise and dedicated page that should give you precise guidance on why you clicked on the ad? This page is called a landing page.
The goal of building landing pages
Convince the surfers who have come to you through social networking campaigns or through Google to continue your site and become customers later. There is a huge variety of different types of landing pages designed for different purposes for different companies from different industries.
Despite the huge differences, one thing is common to all landing pages – they emphasize the benefits that will come to the customer if they choose to use the company's services or products. In addition, all landing pages will have calls to action designed to encourage users to take active action "here and now." For example, "Sign up now for a free guide," 50% off today's invitees, "and so on.
Facebook landing pages
Posts and campaigns that businesses do on Facebook many times will direct users to a specific landing page that should arouse their curiosity and encourage them to leave details or go to the business website. We make lightweight landing pages that are tailored and attractive just for that purpose.
Landing pages with the option of clearing
Many businesses need to create a landing page to sell a single product or event. We offer landing pages with the option of clearing to allow businesses to solve this problem at a reasonable cost and point of investment.
Google Campaign Landing Pages
Google Campaign Landing Pages are designed to provide users with accurate information that is perfectly relevant to the phrase they searched on Google. We make targeted landing pages designed to help surfers exposed to your landing pages become customers.
Landing pages as a replacement for a business site
Many businesses that start out prefer to avoid the high cost of setting up a website. However, they still want to have a reasonable online presence that will allow them to present their business card to their customers. This solution is the ideal solution for them.
Maintenance includes updating content, adding images, troubleshooting the site, and updating the site components.
The cost of writing original content for the site is not included in the package.
We at EXCELSIOR TECHNOLOGY SOLUTIONS provide landing page building services with the following features:
-Build designed landing pages to help you connect with customers and highlight your business brand.
-Build aggressive marketing and sales-oriented landing pages to convince your customers that it's worth continuing your site, leaving details or making a purchase on the spot.
-Build landing pages that are structured in terms of content and design in a targeted way that will specifically attract the target audience you want to reach.
Why do we even need landing pages? Isn't it enough to have a website?
Certainly a quality web site is the basis for marketing your business online, but in order for your footprint to be perfect and varied on the web, you must use additional tools to help you promote your business.
The site you build can be a great tool for organically promoting your business on Google. Once you've decided to enter into a Google-sponsored SEO and Facebook domain, you'll have to use landing pages that are structured differently from the way websites are built.
Landing pages have a real ability to turn traffic that goes into ads that you advertise into phone calls and orders of services and products that will actually translate to increase sales.
Let's think about it for a moment, it's true that there are situations where we post relatively general sponsored ads and then we can expect our site's homepage to do a good enough job for the users who clicked on the ad and came to our site. But what if we want to market specific service ads for example – the creation of landing pages. In such a situation, it is clear that the ad clicker wants to reach a dedicated page that explains landing pages and does not want to receive all the general information displayed on the homepage.
All the beauty of a dedicated landing page is that you can set up a landing page for any campaign type you just want and don't have to change the entire structure of the site. When a potential customer clicks on your ad, they'll reach your landing page and receive exactly the information they clicked on.
Customers clicking on Sponsored Ads want accurate and fast information, so we always strive to include the following information on our landing pages:
-Basic information about the service or product.
-Price for the same service or product.
-Special benefits for immediate purchase.
What are the prices of landing page construction? Landing page prices vary depending on page type, content scope, design level, and so on.
The more content you require, the more time it will take and the more expensive it will be. If you want to test the performance of a similar page but with different characteristics to know before you start spending large amounts on marketing what works better – the price will increase depending on the scope of the test.
Landing page design – no second chance at first impression
If you are champions of Google Adwords campaigns and Facebook Sponsored Campaigns, there is no way that the ads you do will be worth anything without a well-designed and attractive landing page. Landing pages play a huge role in the success of the campaign, and there are a few seconds when the pages can convince your customers whether they came to the right place or whether they would prefer to move to the next ad.
Landing pages need to explain to the client in record time that the client has come to the right place, that your company is the right company, that you are offering the client an offer that cannot be refused and at best – that it is such a good offer that the client should share it with friends.
Landing page design is critical to the success of the sponsored campaign and the conveyance of the marketing message you worked for to produce the campaign.
When it comes to browsing ads, users tend to act quickly and without inches for ad advertisers. This means that if your design is unprofessional, the users will not hesitate to abandon the landing page to proceed to the next ad.
It is important to understand that the design alone will not work and the customers will not stay long on the landing page even if the page is beautifully designed but the content does not fit the design. Building your landing page needs to be perfect in all its aspects in order for it to be effective.
The design should be professional, simple, clear, compelling and match the colors and spirit of the brand you are trying to promote.
If your business is at the very beginning and building a new website does not seem necessary to you, in some cases you can settle for building a landing page. A professional landing page can serve the business for campaigns on Google and Facebook.
You can also use the landing page as a business card and attach a link to it from the email and any other platform. Landing page does not have to be minimal and empty of content, content can be inserted proportionally to provide a snapshot of the business clearly to whoever enters a landing page.
For those of you who want to increase online sales volume but do not want to invest in building a new sales site, we offer dedicated sales landing pages with the option of clearing and completing the transaction online.
We offer different types of landing pages suitable for businesses with different needs, you will be impressed with all the options on the landing page.
I feel confident in recommending Excelsior Technology Solutions digital marketing services. They are not only thorough but also easy to work with and always willing to take the time to discuss our concerns and respond to questions.
I am writing to recommend the digital marketing services of Excelsior Technology Solutions. They created and implemented many successful campaigns for us. Their digital marketing expertise coupled with their collaborative and innovative spirit made them the go-to expert for our most significant projects.
I am writing to recommend the services of Excelsior Technology Solutions as my digital marketing consultants as they took our sales significantly in just three months by using forward-thinking strategies. They are detail-oriented, organized, and always open to constructive feedback, making our business relationship both effortless and pleasant.
Let's Get Started
Ready To Make a Real Change? Let's Build this Thing Together!